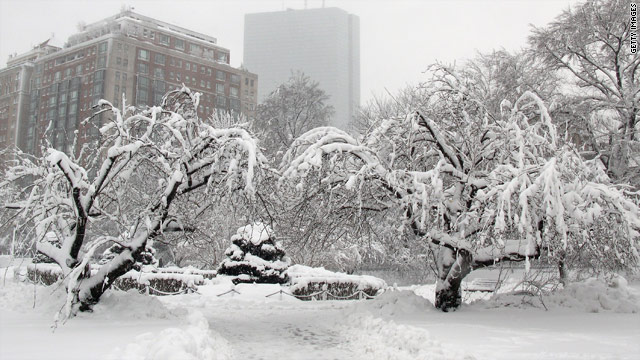 On a day when eight inches of snow fell on Boston (above), our co-editor Kellie Gutman receives a postcard asking her to look out for the first daffodil.
Boston has
already received its yearly average of snow for the year - 42 inches
. But that hasn't discouraged the fourth and fifth class students at the
Paideia School
in Atlanta, Georgia, from sending out their annual request for people to monitor the progress of "blooming daffodils" along Route 1.
A major North-South highway,
Route 1
runs along the East Coast for 2,377 miles, from Key West, Florida to Fort Kent, Maine. Each year the students at Paideia School in Atlanta send postcards to postmasters and friends who live in towns along the route, asking them to mail back a postcard with the date of the first sighting of a blooming daffodil in their town.
They use this information to plot the speed of spring's advance, and, before the end of the school year, they send out a report of their findings. It's one way of measuring
season creep
. Also, as a school project, it's exemplary, managing - as it does - to be poetic, scientific and participatory.
Last year we followed this project in
the speed of spring
,
the melting snow
and
the results for 2010
.